20 Nov 2023
Rugby League stalwart honoured at Players Association annual awards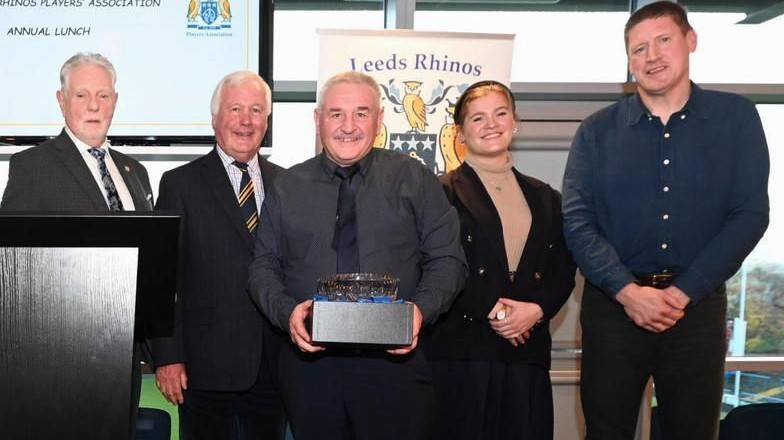 Leeds Rugby League community stalwart Sam Horner was honoured at the annual Leeds Rhinos Players Association annual lunch.

Horner, who helped establish the West Leeds community club, has worked tirelessly for many years with the Leeds Rhinos Foundation to develop the game across the Leeds and district clubs both in player and coach development.
Horner was presented with the Joe Warham Award with Leeds Rhinos Foundation Chief Executive Bob Bowman QPM paying tribute to Sam's longstanding service to Rugby League in Leeds and how he has inspired so many to play and enjoy Rugby League. He was presented with the trophy by John Warham, son of former Leeds secretary Joe, who travels from his home in Norwich to attend most home games as a Member of the Headingley Taverners' Club and continue his family's long association with the Rhinos.
Past winners of the award include the former Club Secretary, Bill Carter in 1991, Arthur Clues, John Holmes, Lewis Jones, Bev Risman, Harry Jepson, Ray Batten, Kevin Sinfield and Julie Bush.
Sunday's lunch attracted a record attendance of 370 Leeds players and was the 32nd Annual Leeds Rhinos Players' Association Lunch. For the first time, the guest included past and present players from all Rhinos Rugby League teams with the oldest guest being Eric Horsman, who played for the club in the 1950s. The former Leeds players were joined by special guests from other clubs including Rugby League Lions Ian Brooke, Jim Mills, George Nichols and Mick Stevenson.
There was a special tribute to former player and President of the Players' Association, Bev Risman OBE who passed away this year. Legendary Leeds and Great Britain winger Alan Smith was announced as the Association's new President.
The Leeds Rhinos Players Association presented a cheque for £25,000 to the Leeds Rhinos Foundation's 'Rugby League Development Plan for Leeds' as part of the day and were grateful to the events sponsors Rob Burrow Racing Club, J & B Travel, YK Builders, Anthony Carol Carpets, Harwood & Co, PHD Electrical and Baxi.