8 Nov 2023
Sinfield set for new epic 7 in 7 in 7 challenge in support of MND community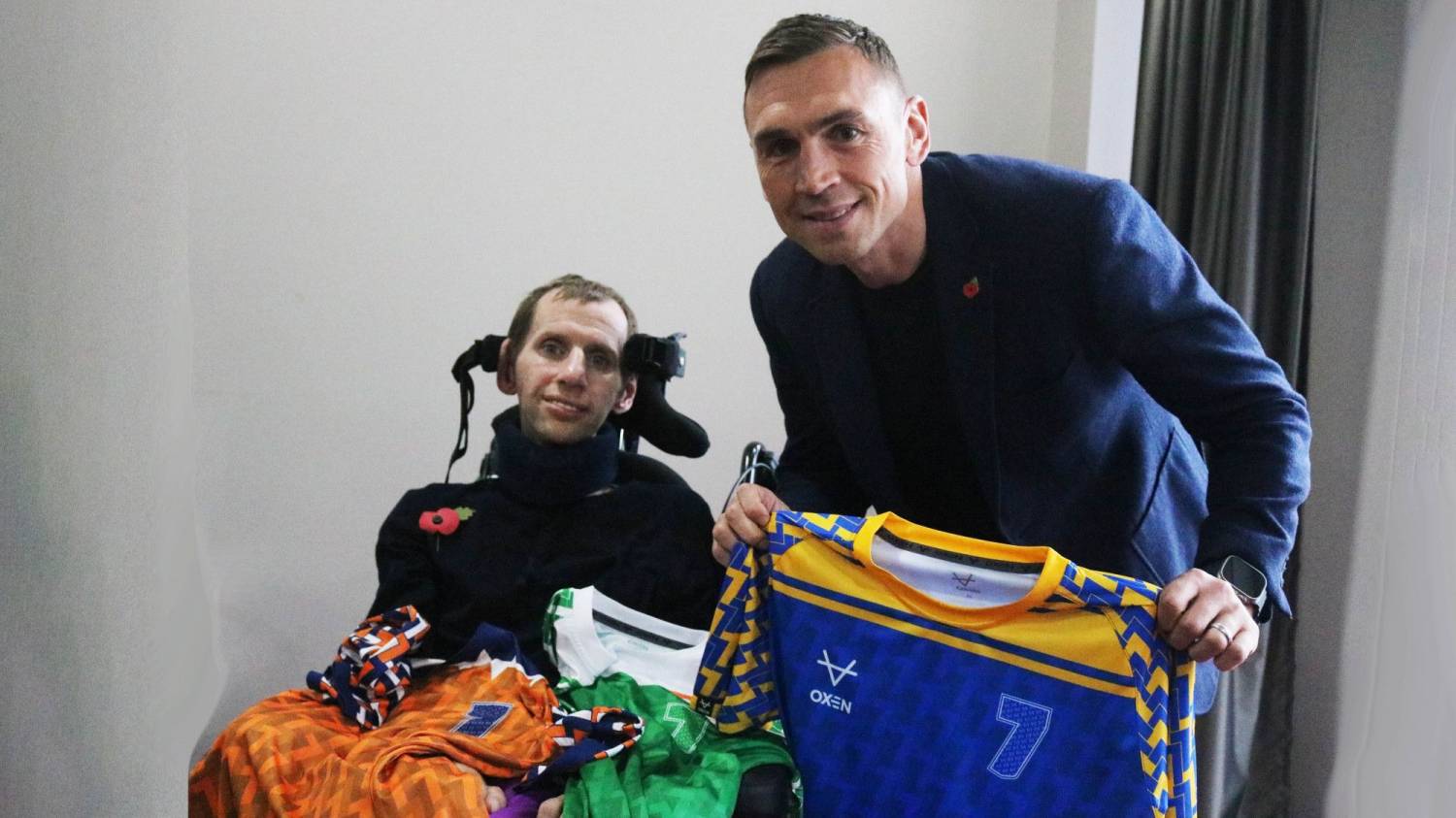 Rugby League legend Kevin Sinfield OBE is set to pull on his running trainers again after launching a new epic challenge to raise awareness and funds to support those impacted by motor neurone disease (MND).
A year ago, Sinfield and his team completed his third challenge when they ran from Edinburgh to Manchester, covering over 40 miles a day for seven days. Now the England Rugby Union defensive coach will hit the streets again.
Since 2020, Sinfield and his team have raised over £8 million with three endurance events that have captured the public's imagination having been inspired by Sinfield's former Leeds Rhinos team mate Rob Burrow MBE.
The fourth and latest fundraiser will combine elements from the three previous challenges. The 7 in 7 in 7 Challenge will see Sinfield and his team run an ultra marathon every day for seven days in seven cities around Great Britain and Ireland. Each run will be a marathon with an extra mile to signify the extra mile people can all go to help their friends in tough times. The extra mile event each day will see invited guests join Sinfield for one mile. The aim is to complete each day's run in under four hours.
Starting on Friday 1st December, three years to the day since Sinfield started his first 7 In 7 challenge in 2020, the team will leave AMT Headingley Rugby Stadium heading to York Minister in the first leg of the challenge.
For the first time, the 7 in 7 in 7 Challenge will take the fundraising to multiple cities. On Day Two, the team will travel to Cardiff, finishing the day on the pitch at half time of the United Rugby Championship game between Cardiff and Scarlets at The Arms Park. The third day, on Sunday 3rd December, will start at the Alexandra Stadium in Birmingham, the host of the 2022 Commonwealth Games before travelling around Birmingham, calling at St Andrews, Villa Park and Edgbaston en route to a finish in the city centre of Britain's second city.
On the fourth day, the team will head across the border to Edinburgh, crossing the Forth Road Bridge before finishing at Scottish Gas Murrayfield. This will be a poignant moment as not only will it mark the halfway point of the challenge but also evoke memories of seeing Doddie Weir for the last time a year ago as he set Sinfield and the team off at the start of the Ultra 7 in 7 Challenge.
The team head across the Irish Sea on 5th December to run in Dublin inspired by former Munster Rugby Union coach Paul Darbyshire, who played Rugby League with Warrington and passed away from MND in 2011 when he was just 41. The team will work with the Irish MNDA for the first time following on from the incredible work done by legendary RTE broadcaster Charlie Bird who raised over €3 million for charity with his Climb with Charlie following his own MND diagnosis.
On 6th December, Sinfield will head to the South coast of England to Brighton before concluding the challenge on Thursday 7th December running from Twickenham Stadium to the Mall, the traditional finish of the world famous London Marathon.
The team are inspired by MND sporting warriors Rob Burrow, Ed Slater, Marcus Stewart, Stephen Darby, the late Doddie Weir and the 5,000 other people living with MND, in the UK right now.. The initial target is to raise £777,777 from the challenge. Supporters can show their support now at donate.giveasyoulive.com/fundraising/kevin-sinfield or people can text Kevin10 to 70143 to donate £10 or Kevin20 to the same number to donate £20.
The 7 in 7 in 7 Challenge will support five charities which support and care for people affected by MND and their families, and invest in research to bring us closer to effective treatments and a cure for the disease. The main beneficiaries will be the MND Association and Leeds Hospitals Charity's appeal to build the Rob Burrow Centre for MND in Leeds. However, there will also be donations to My Name'5 Doddie Foundation, the Irish MND Association and the Darby Rimmer MND Foundation plus support for the 4ED campaign to support former Gloucester and Leicester Rugby Union player Ed Slater.
Commenting on his new challenge, Kevin Sinfield said, "Here we go again! I did say last year that the Ultra 7 in 7 would complete the trilogy but there was always that caveat that Rocky 4 was my favourite Rocky film. The MND community have always given us incredible support and we wanted to find a way that we could show that support for more people around the country. I would especially like to thank all the local authorities and councils who have given us their support, it means so much to everyone.
"Physically this will be my toughest challenge as I have not been able to do the amount of training that I have done previously because of my commitments for the World Cup and we have set an ambitious time target to complete each ultra so people know that we will be pushing ourselves to the limit. I am looking forward to it and seeing all the support out on the streets once again. For the MND community, every second counts and we will be making the most of every step on this challenge to raise awareness, funds and support for that community," added Sinfield.
To mark the launch of the 7 in 7 in 7, a limited edition range of merchandise has been produced that will be worn by the team during week long challenge. Each day will see a different design inspired by the host for that days run including a Doddie Weir inspired design for Edinburgh, national colours for Wales and Ireland and an Ed Slater inspired design for Birmingham, the closest run to his former club in Gloucester. These can be ordered now at www.eliteprosports.co.uk/oxen-sports/7-in-7-in-7/
Tanya Curry is the Chief Executive of the MND Association. She said: "After three incredible challenges, our patron Kevin Sinfield is once again demonstrating his unwavering commitment and passion to raising awareness and funds in the fight against MND with this fourth challenge.
The fundraising from his previous challenges has helped us expand our services and invest in vital research into this devastating disease. This new endeavour, inspired by his friendship with our patron Rob Burrow, and the 5,000 people living with MND in the UK right now, will continue his incredible legacy. We are so grateful for his continuing efforts and will be rallying behind him as he laces his trainers for 7 in 7 in 7."
Esther Wakeman, Chief Executive of Leeds Hospitals Charity said: "Kevin has always gone the extra mile for Rob and the MND community, his unwavering commitment to support the fight against motor neurone disease is truly awe-inspiring. Through his series of epic challenges, Kevin has already contributed over £2 million to our Rob Burrow Centre for Motor Neurone Disease Appeal. We're incredibly grateful to Kevin for lacing up his running shoes once again to fundraise, as we still need £1.9 million to help make Rob's dream of a specialist centre in Leeds a reality."
"The Rob Burrow Centre for Motor Neurone Disease is all about creating an environment for patients to receive the best possible care in a purpose-built centre where they can 'live in the now.' It has also been exciting to see how the prospect of the new centre is already unlocking new opportunities to benefit people living with the condition in our region. All of us at Leeds Hospitals Charity would like to wish Kevin good luck on his 7 in 7 in 7 challenge and will be giving him a great Yorkshire send off as he departs from Leeds!